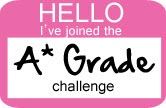 Hey everyone!
As always I was snooping around Pinterest and I found something that I was just like "wow! I need to check that out" so i clicked on the link and this is what I found. (click on the link below to see what I found) So I decided to join in
This semester just like "A Chic Lifestyle" blogger Sanam Mohammad did! :) I will be posting to you guys and emailing her how my grades are going, hope you do to. Good luck these semester!
Here is the link to know more about this challenge!
Blessings!
Mila <3